Posts Tagged 'Elena Ferrante'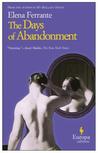 The Days of Abandonment by Elena Ferrante
My rating: 4 of 5 stars
I wanted to give this book three stars but then a little voice in my head said, "Vanessa, be honest, this book is one of the most important books written by a living writer. How can you give it a lower rating than all those trashy erotica books you read?"
Well, the truth is I didn't like the ending. It was too happy. It didn't feel genuine. It was glib.
Not that sincerity is my strong suit. Some of you reading this may not know that I pretend to have a blog. It's not really a blog. I simply paste my Goodreads reviews into it and pretend it's a blog.
But I haven't even been doing much pasting recently. My blog is suffering long Days of Abandonment. The most recent comment on my blog says "I miss your blogging."
But instead of blogging I've been using the London Underground. I've been rubbing up against real people every day.
Last week I was on one of the most congested routes at the peak of the rush hour, on the Jubilee Line between Canada Water and London Bridge. The woman beside me was reading Troubling Love and the woman standing over us in the throng of people crammed into that carriage stooped and touched her book and said "Oh, you're reading Elena Ferrante. Isn't she just great? I'm about to finish The Story of the Lost Child."
The startled stranger looked up at this weird woman on the Undergound. "Isn't it fantastic? I had to read the last half really slowly because I didn't want it to end."
"I know! I don't know what I'm going to read next. I have to read another one by her. What is that one like?"
"This one is good too. But have you read The Days of Abandonment?"
"No."
"Oh you should! That is an amazing book. I really like the way she writes. She's fierce. She's kind of scary but I love it."
I was deep into a Sweetmeats Press book at the time. I didn't feel confident enough to lean across and say, "But weren't you let down by the ending?"
And in any case, the ending is just a few sentences. The rest of the book is indeed scarily visceral and intense. And it's all that scary visceral intensity that makes The Days of Abandonment a really important and thrilling book that will make you want to read everything by Elena Ferrante and enthuse about her to strangers on the Tube.
The rest of the book is not glib at all. Quite the opposite. It has the rawness of unadulterated truth. No wonder Elena doesn't want you to know who she is.
Go and read all you can by her and tell all your friends about her, straight away!